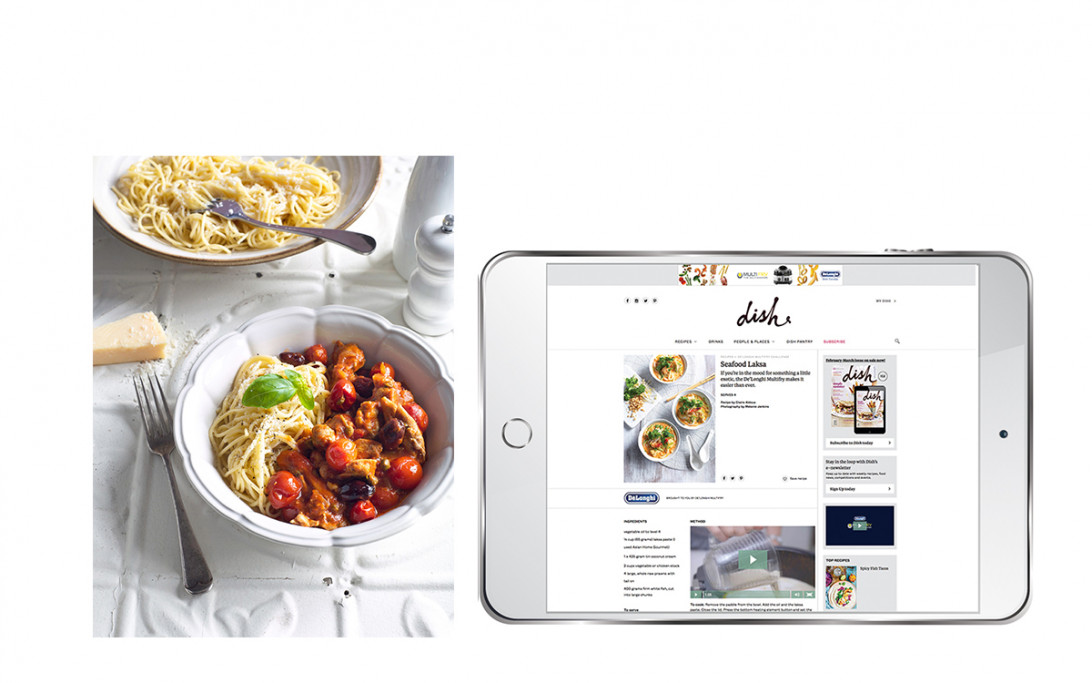 De'Longhi bet that Claire Aldous, Dish's Food Editor, could use the Multifry instead of her beloved oven to make soup, mains and even dessert. The prize if she won? Her very own Multifry of course!
Claire took up the challenge and created six original recipes using only the Multifry as her cooking appliance. She made an amazing array of dishes to show how the Multifry is not just a frying tool but a multi-purpose, small bench-top oven that can do almost anything:
Seafood laksa
Sticky devilled chicken drumsticks
Lamb burgers with onion jam
Dark chocolate and raspberry brownie
Italian chicken and olives
Spiced almond and chocolate meringue torte
We filmed Claire in action and photographed the dishes to promote what she came up with on the Dish website as the 'De'Longhi Multifry Challenge' recipe collection and on the homepage. Individual recipe pages also featured a De'Longhi byline and display ads.
Dish followers loved the campaign on Facebook and Instagram. On Facebook, the video posts were viewed more than 280,000 times, 6,600 people liked, commented or shared the posts and more than 18,000 clicked on the posts.
We also gave away two Multifrys through the Dish email newsletter and had a great response thanks to the interest and credibility that Claire and the Multifry created together.