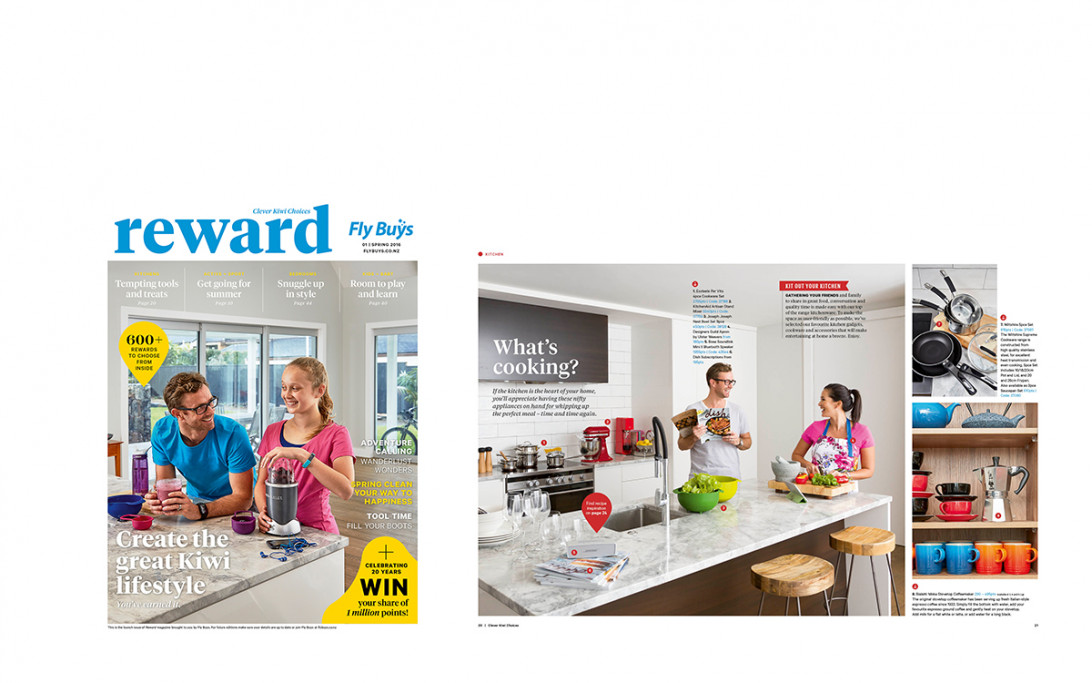 The new and improved publication is the first of its kind for Fly Buys. It chose Tangible Media to create a magazine that people would be interested to pick up and read – as well as browse through - to discover the products listed as rewards.
To achieve that, the catalogue features inspirational content areas in which the products are seen in action and supported by information
This is a different approach to the previous reward catalogues, which marketing manager Mary Direen describes as quite little, with lots of products and "not much content".
Direen says it approached Tangible Media to work on the project after seeing the Toast magazine it created for Liquorland.
"We really liked that balance of content and product and the fact that it's also a strong brand piece".
The change in content also provided an opportunity to offer product suppliers a bigger range of advertising options within the catalogue. In previous catalogues, the suppliers paid to have the products listed but this time, Fly Buys approached the brands with what Direen describes as a "media package". This included the opportunity to have the products featured in the inspirational content sections where it could be shown in use, as well as a spot in the shopping pages and the weekly email.
The ability to showcase products in action appealed to suppliers, with Direen saying "it's a lot easier to sell a product when someone is doing something with it, rather than just a little spot on a page with 25 other products".
Partnering with a magazine publishing company may seem an unusual step for Fly Buys in an ever increasing digital environment but that's not the case for the loyalty scheme. Direen says Fly Buys has a huge online presence that will continue to support the print catalogue.
"There's nothing quite like having something physical in your hands that you can look through and our research shows that families will sit down and go through the guide and circle the things they want and the kids can pick out the toys they might want for Christmas."
Because of this, she says having something really tangible remains important to Fly Buys' customers and it is the main prompter to direct them to the website, on which 80 percent of redemptions take place.
"We wanted people to have a fresh look at Fly Buys and go 'wow I didn't realise you guys have Fitbits and iPads'," says Direen. "We just want to showcase all the brands that we do have and maybe that will be an opportunity for people to have another look at the programme and hopefully reactivate."
A new look catalogue is not the only change Fly Buys has seen this year, with its rewards system also boasting new offerings added to make it, and its products, accessible to more customers.