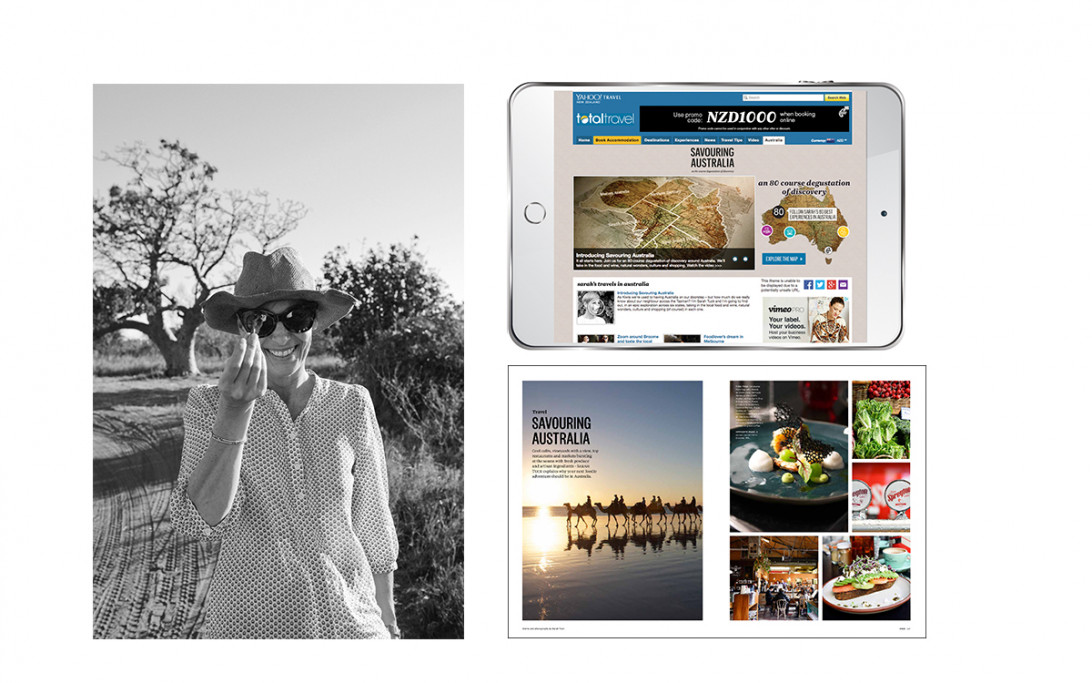 Savouring Australia is an 80 course degustation of discovery' that's appealed to the hearts, minds – and stomachs – of Tourism Australia's 40-64 year old New Zealand audience.
Developed as a way to increase market share, visitation, spend and preference for Australia, the campaign featured Sarah Tuck, a Dish magazine contributor who writes, styles and photographs for the magazine and online regularly.
Sarah had the envious job of travelling to six of Australia's states over 20 days to experience the food and wine, natural wonders, culture and shopping. And we had the challenging job of compiling and editing her video content while she was still in Australia in order to meet launch deadlines.
The result? We compiled Sarah's adventure into its very own Yahoo NZ travel hub where articles, photos and videos showcased her amazing journey. The hub also included an interactive map, competitions, and calls to action to Air New Zealand, House of Travel and Australian state tourism websites. Tourism Australia, Air New Zealand and Yahoo NZ all promoted the campaign through their own channels.
We rolled out the campaign through Dish magazine, the Facebook page and dish.co.nz as well, where it picked up its own momentum.
Overall, consumers who were exposed to the entire campaign increased travel intention to Australia by 10%. Those exposed to the Yahoo NZ hub increased travel intention by 14%.*
"The Tangible Media team's principal role was creation and delivery of content to support the campaign and I have to say I was truly impressed with their delivery in all respects. They were a class act from start to finish including campaign approach, collaboration, recommendation of Sarah, production quality, communication, commitment to the objectives, fulfilment of KPI's and reporting on progress and completion. And they are a great bunch of people to work with…" Tony Rogers, Marketing Manager – New Zealand, Tourism Australia
*Source: Colmar Brunton Independent Research Study 2014, Target: 40-64, HHI $80K+, travel without kids